Falsified medicines are a serious risk to health. They can contain dangerous substances - - rat poison, paint and cement have been detected in falsified medicines. They may also contain the wrong active substance, or too little or too much of the correct one.

By buying medicines from a pharmacy or legal online pharmacy, you can make sure the medicines you use are safe.

The Medicines Verification System is a pan-European system which aims to prevent falsified medicines from entering the legal supply chain. The requirement to build the system is based on EU legislation, namely The Falsified Medicines Directive (FMD) as well as the specifying Delegated Regulation. This regulation came into force on 9.2.2019.

The scope of the legislation is mainly with prescription medicines but the Delegated Regulation specifies some exceptions. The exceptions are listed in an annex to the Regulation. Special license products which are brought on the market from outside the EU, are not in scope.

The Medicines Verification System consists of a European central repository, in which pharmaceutical manufacturers and parallel traders enter the unique identifier information about the medicine pack. All EU countries (+ EEA countries) have their own national repositories to which the EU Hub will feed data. The national systems are used by local actors in the pharmaceutical supply chain, i.e. wholesalers, pharmacies, hospital pharmacies and private dispensaries.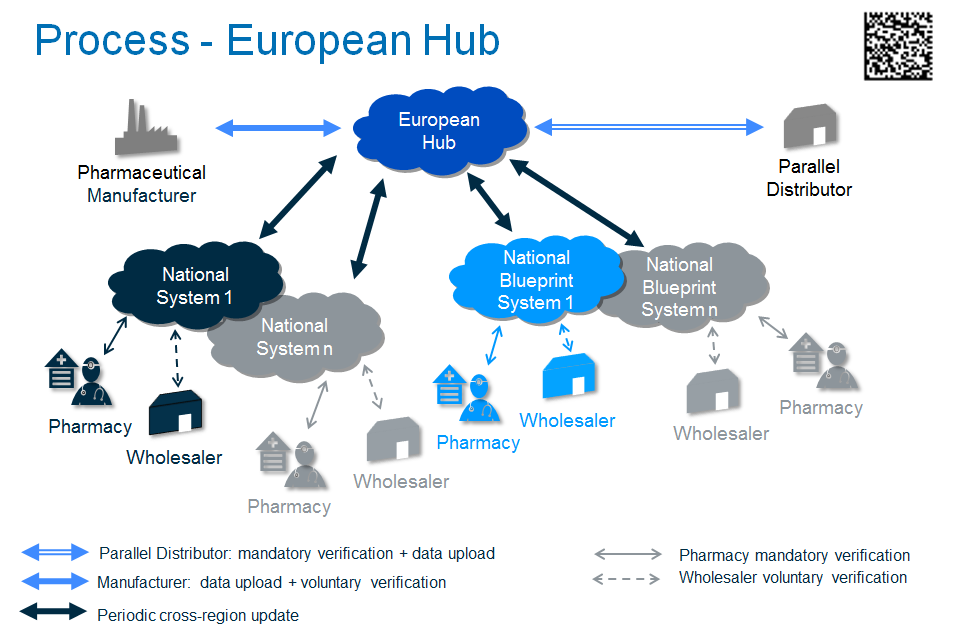 The EU Hub and national repositories contain information about the unique identifier on the medicines packs. The unique identifier is in a 2D data matrix which consists of:
product code (GTIN)
unique serialised code
batch number
expiry date
Information on the pack is compared to the information in the repositories system to verify the pack is not falsified.

The national systems interact with each other via the EU Hub. This ensures the safety of multi-market packs. Also parallel traded packs can be correctly verified. In addition to this, a pan-European system is an efficient tool in case of a recall situation.

The Finnish Medicines Agency Fimea supervises the system in Finland.
Governance of the system
The European legislation states that the system is governed by non-profit organisations. 

The European Medicines Verification Organisation EMVO was formed to govern the central repository, the Hub. EMVO's members are organisations representing the pharmaceutical industry, pharmacies, wholesalers and hospital pharmacies.

A list of the national organisations i.e. NMVO's can be found on EMVO's website.